2020 started just like any other year… and then it blew up. And then it lasted a long time, and still went so fast. Many good things came out of 2020, but today, I am going to be sharing my top five purchases of 2020. Friends, I love to shop so you know to narrow this down to five, was tough. Here we go…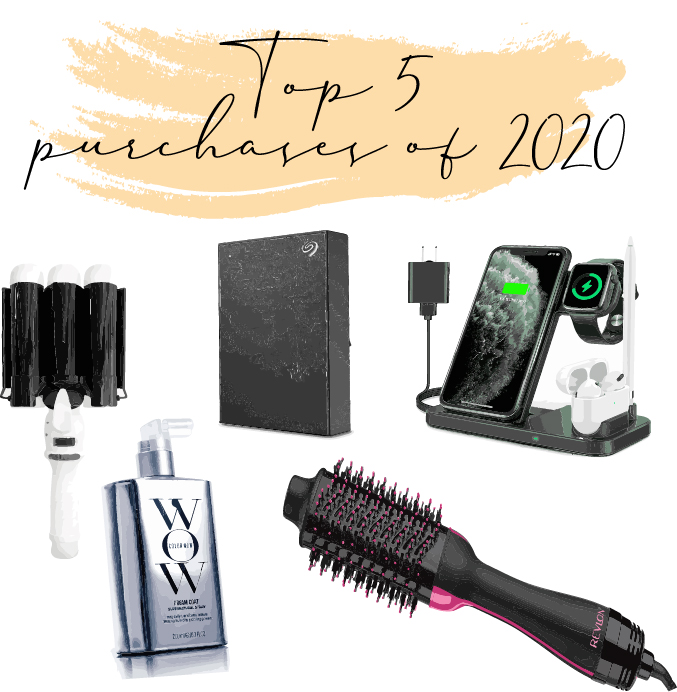 4 in 1 Charger // Color Wow Dream Coat Spray // Revlon Hair Dryer and Volumizer // Seagate Backup Plus Portable External Hard Drive // BondiBoost Wave Wind
Let's talk haircare first because yes, 3 out of the 5 items are hair related. Out of the three, my favorite item is definitely the Color Wow Dream Coat Spray. I first heard about this item on the Today Show and once Hoda said she uses it and loved it, I purchased it SO fast. And guess what? It actually works. Hoda for the win. The dream coat spray is actually what it is. It makes your hair feel like a dream coat, and the best part… IT LASTS 3-4 WASHES! I have tested this and holy smokes, it works. All you have to do is spray and then activate the spray using heat. And BOOM! You will never look back.
Speaking of heat, you will need something to activate that spray – insert the Revlon Hair Dryer. Something I have always struggled with was volume. This hair dryer not only makes it SO easy (and quick!) to blow dry my hair, but it also it actually gives me volume. Two for Two!
And to round out my favorite hair products, the BondiBoost. If you have been on Instagram in the last year, you most likely know what this wave wand is and what it does. However, many of us 90s kids know this tool as a crimper! During quarantine, I taught myself how to braid my hair, since it was something I never really took the time to do. I knew HOW it worked, but could never get my hands to do what they needed to do.
After many practices, I finally got it. I would wear my braid for a day or two, and then once I took it out, DANG I LOVED MY HAIR. Therefore, this is what I choose to invest in the BondiBoost because I knew I already loved my hair with waves and wanted the option to do it whenever I wanted. With the BondiBoost, I have learned that it works best with dirty hair, and/or texture spray! Add all of the spray. All of it. Here is my favorite texture spray!
Now, the tech. Who is even surprised that I have tech on here? Not me. Unfortunately, a new laptop didn't get crossed off my Christmas list this year, so that isn't one of them! However, our new 4 in 1 charger is a close second. I also saw this item on the Today Show, which again, had me running to Amazon to purchase one for Jackson and I. We bought have airpods, iPhones, and apple watches, and those come with a lot of cords and wires that I was tired of looking at. We have had our 4 in 1 charger for a few weeks now, and I can't recommend it enough. It charges your phone watch, airpods, and apple pencil. I'm not sure what we did without these!
Finally, the last item I loved in 2020 was my Seagate Backup plus external hard drive. I have always, my entire life, strugggggggled with space. Too many photos, too many videos, you name it. I am the queen of getting the "Storage Full" notification. Until I purchased this guy. Pricey but worth every penny. I have slowly been getting all of my photos off of my laptop and onto my external hard drive. This does take a long time, but the space is worth it. I will be using this for many, many years.
There ya have it! My five favorite purchases on 2020… plus everything I purchased from shopDisney! Ha! Also, I would like to finally add that I started Tula in 2020. Since I felt like I needed to pick products and not a company for this, I didn't select it. BUT Tula changed my skincare game and for that I will forever be grateful.
See ya real soon!
Nikki