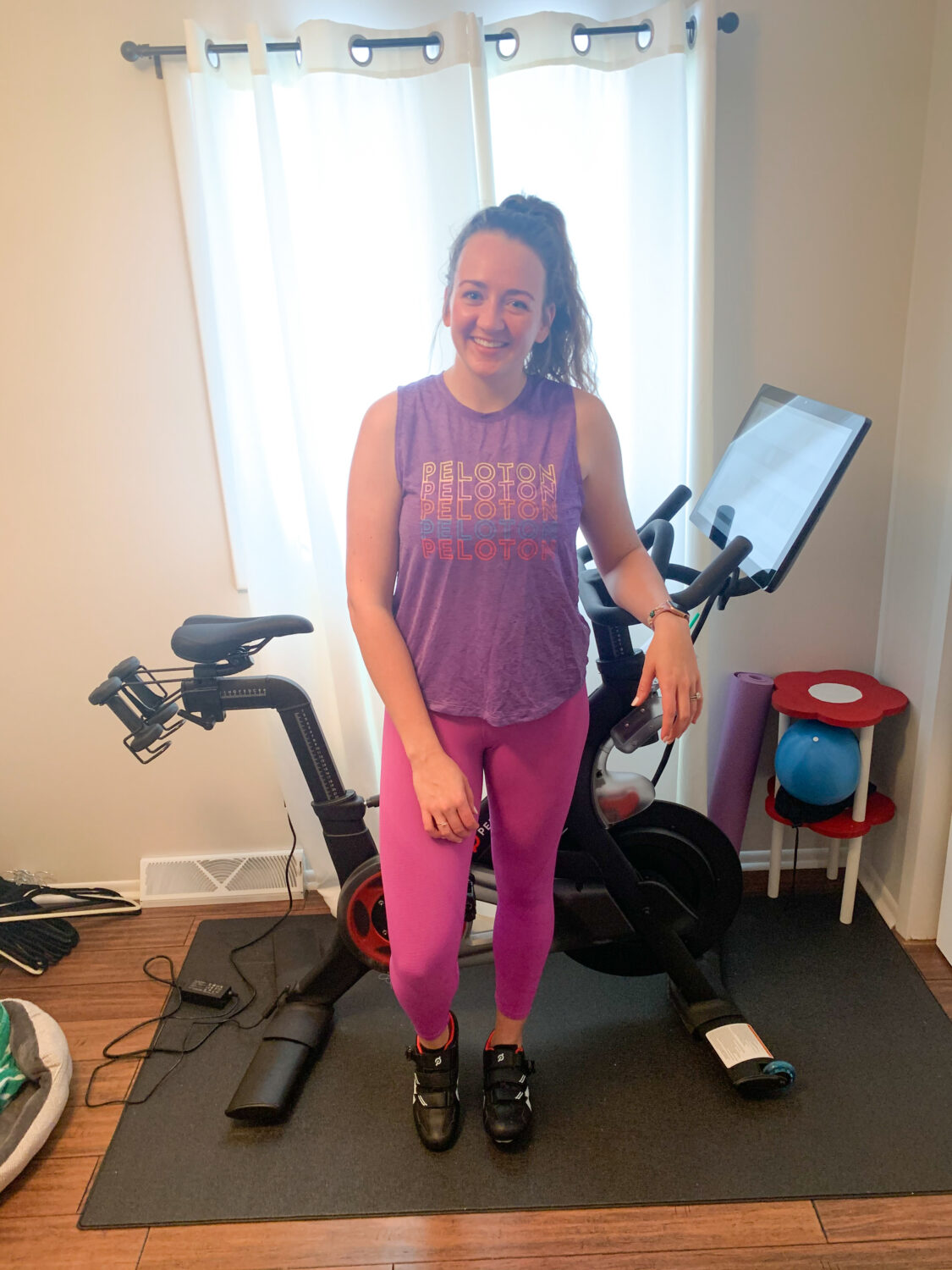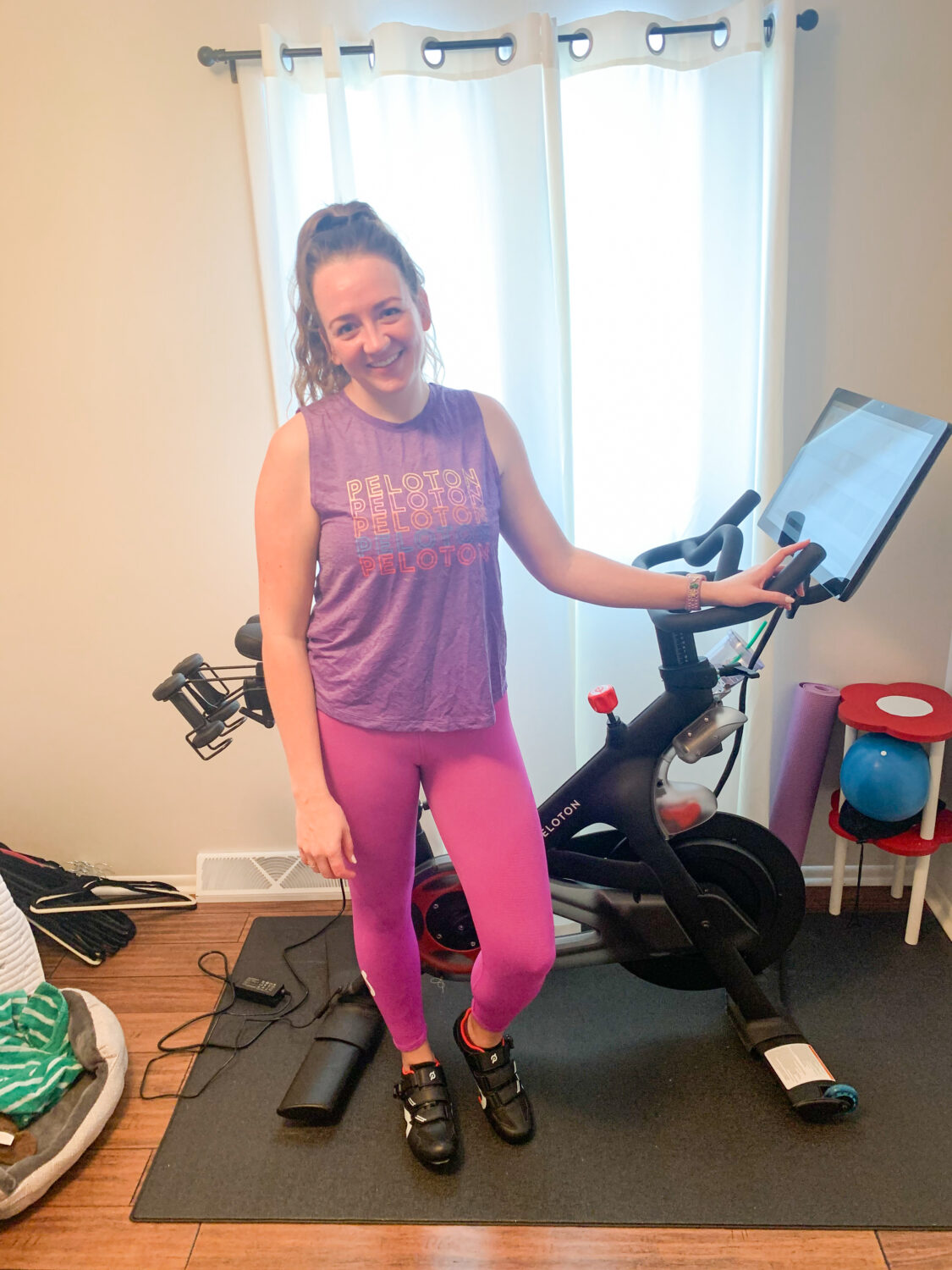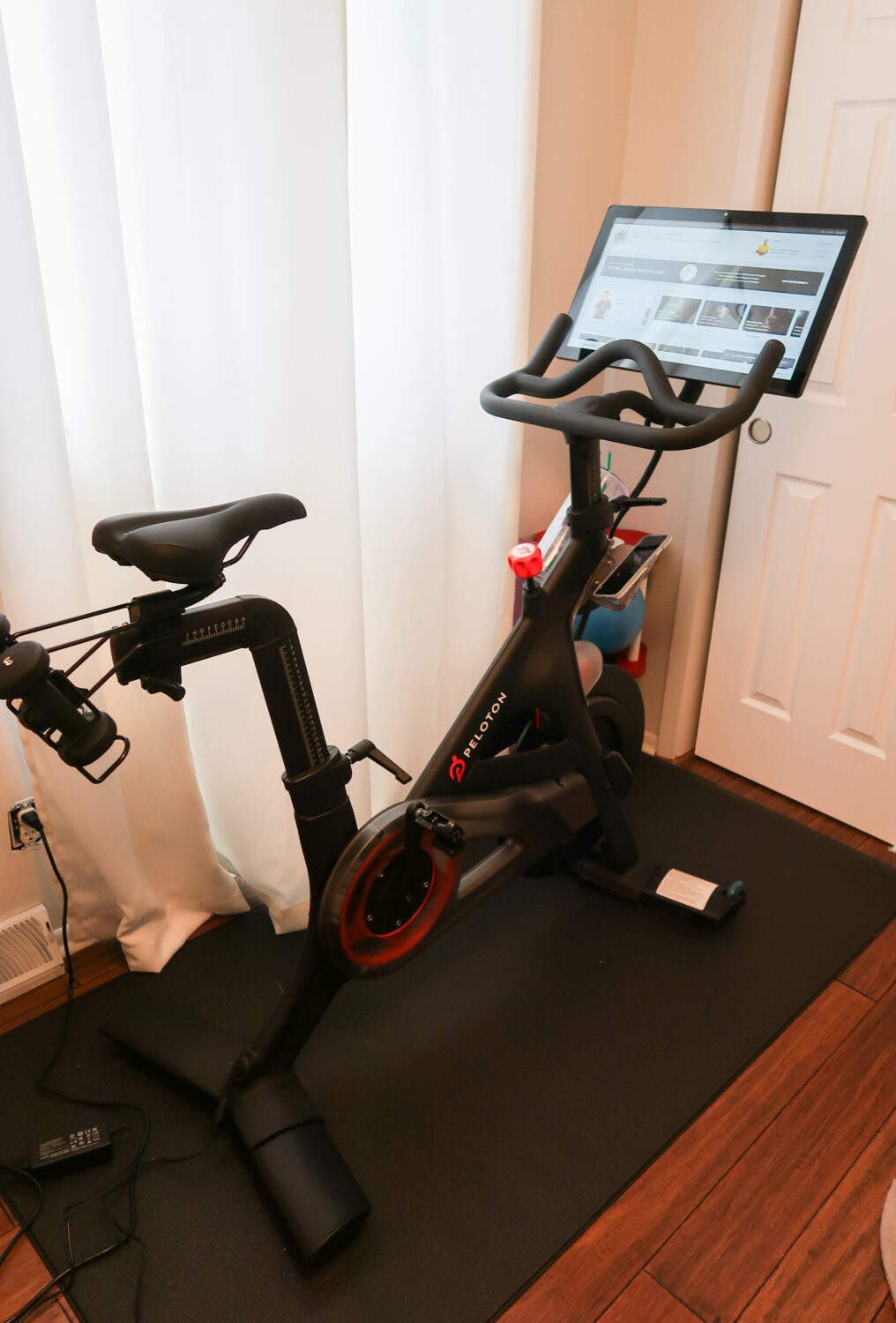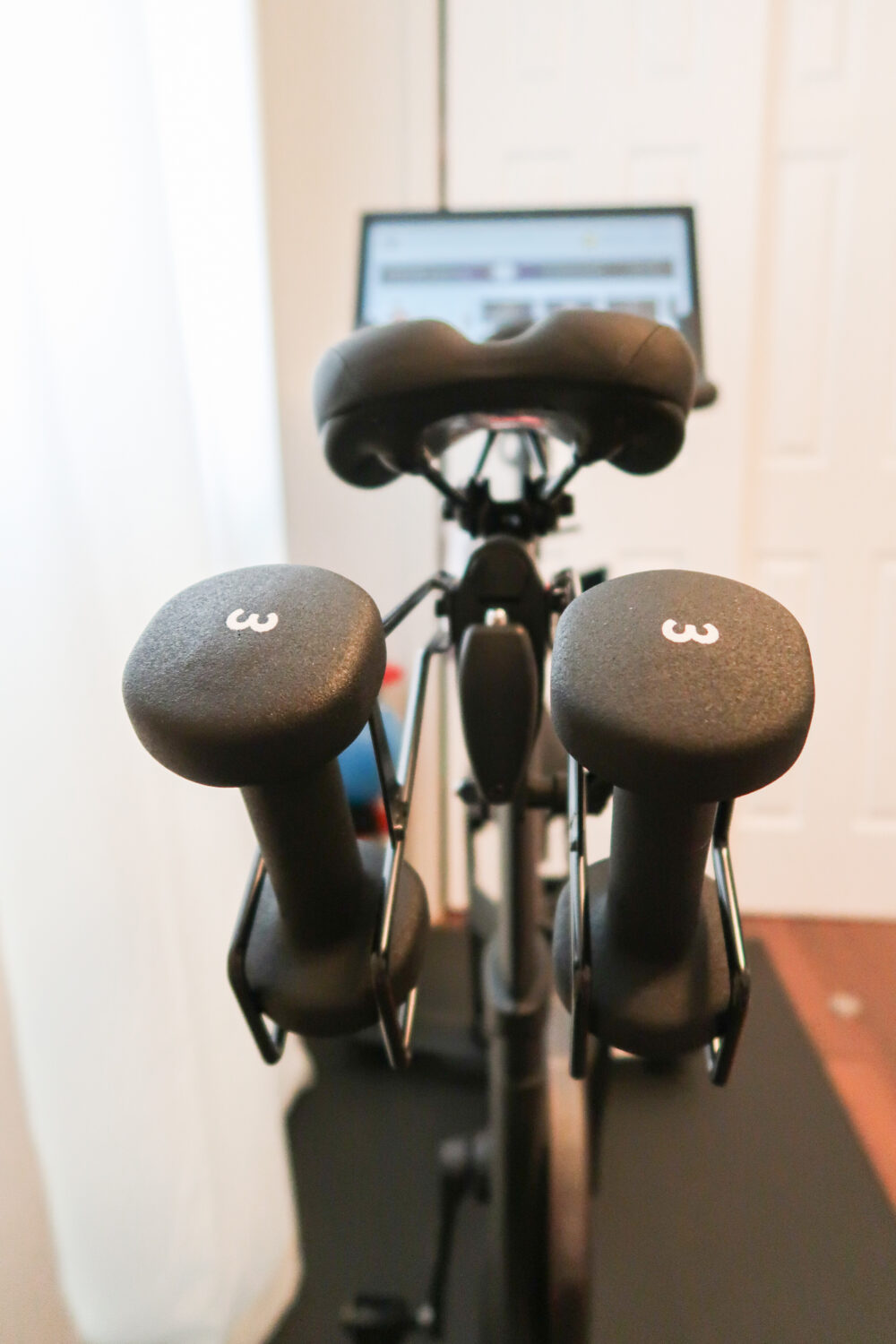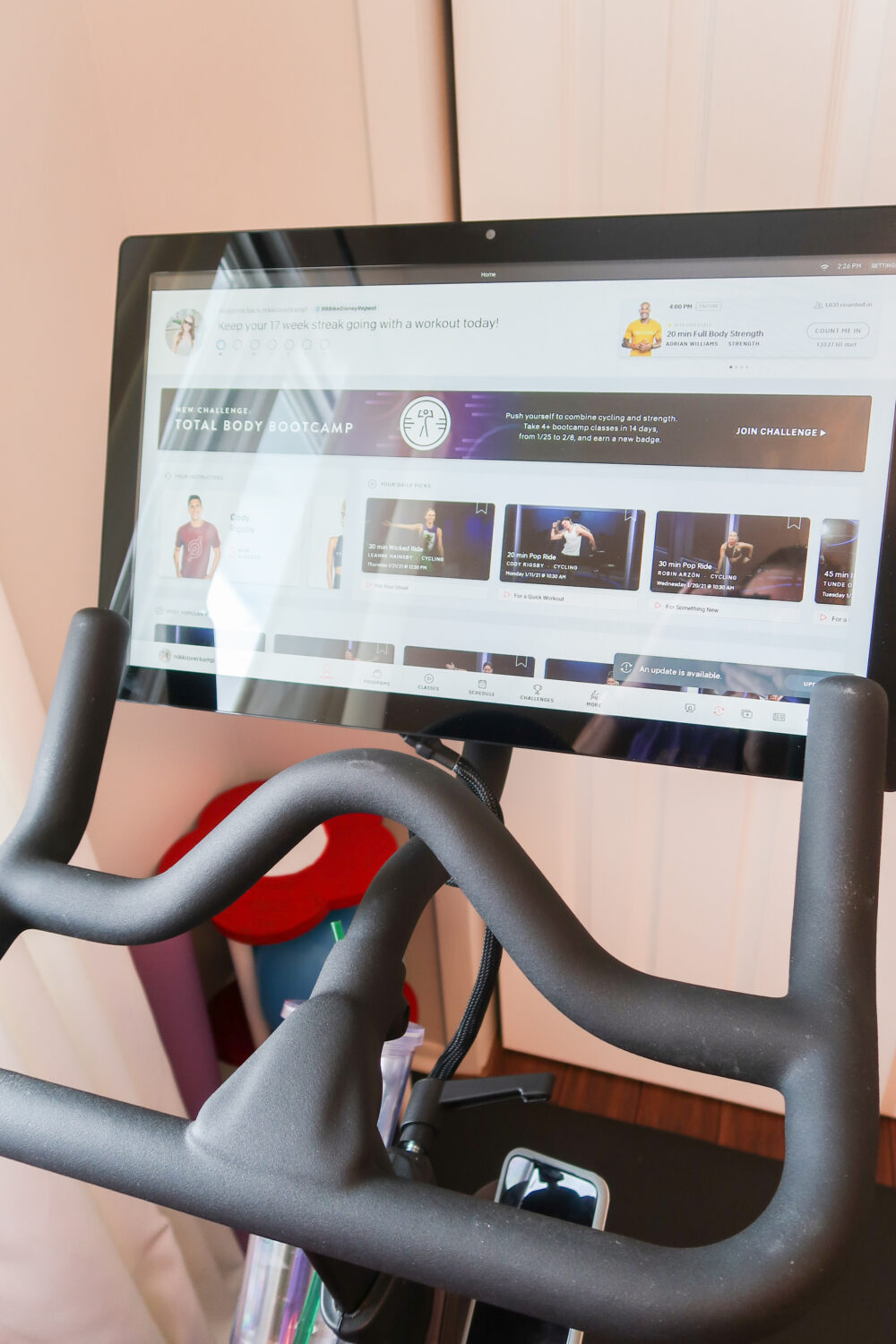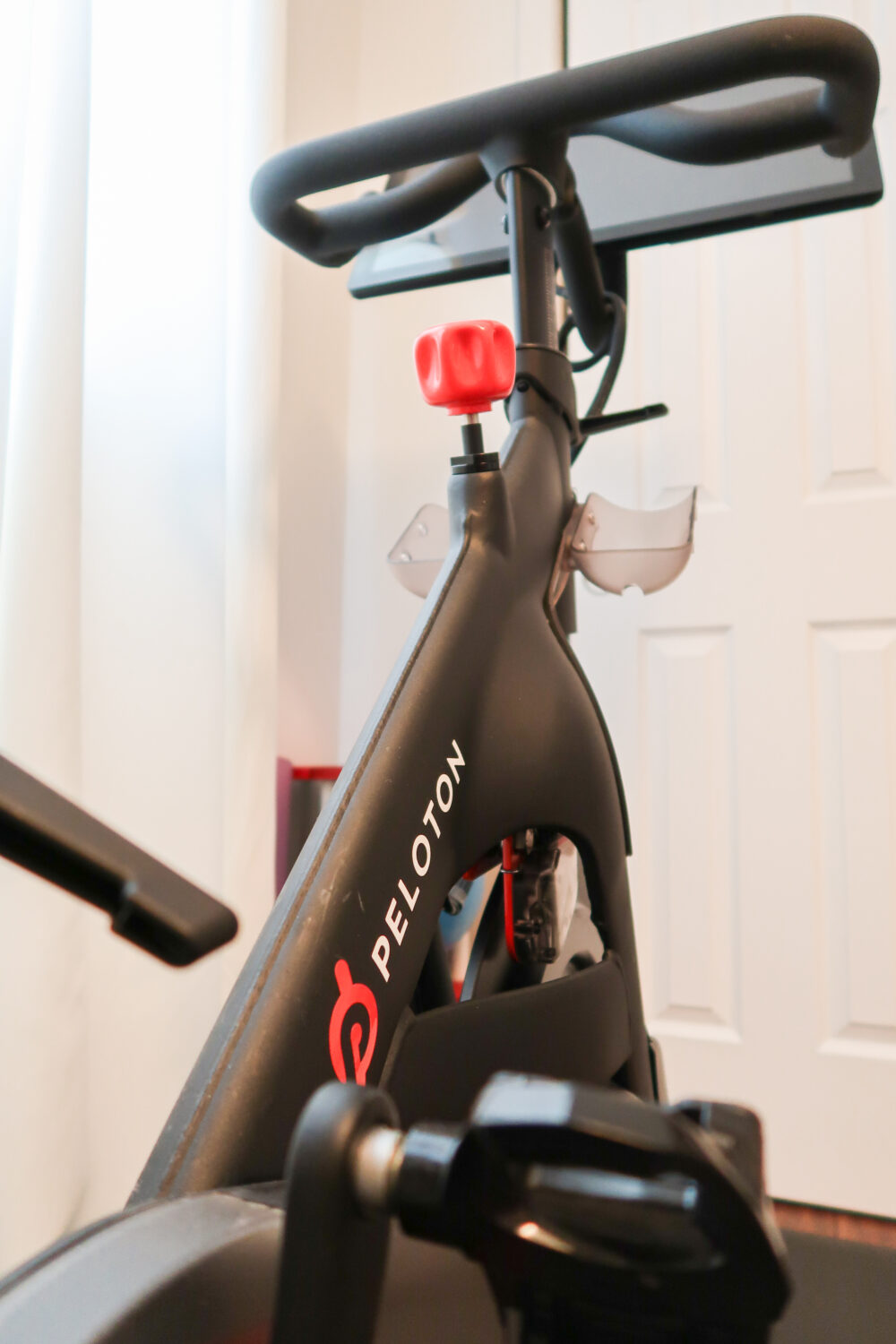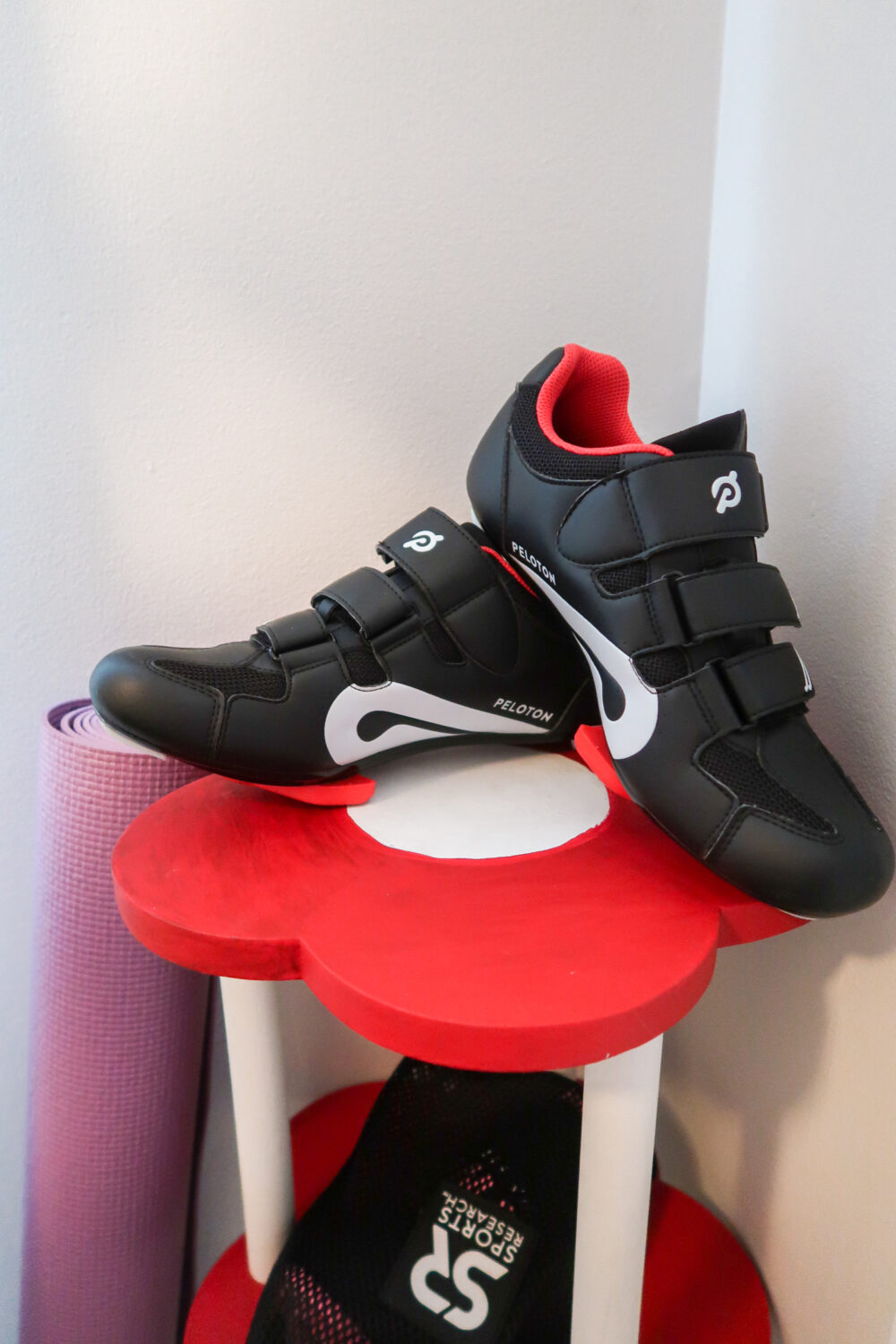 Hey guys! Thanks for being here. Today's post is all about, you guessed it! PELOTON! Finally, I know. If you have been like me this past year or so, then you know your workouts have been less than fabulous, starting around March.. you know that one thing that happened. Eek.
All of 2019 and the beginning of 2020, I was a member of our local Barre Code studio, which I loved! And still do. It was RIGHT by the office and the lunch time classes were my favorite. Quick drive over for an afternoon workout, and then back to work. So, so convenient!
Then 2020 happened. Thankfully, I was able to keep my job and work from home. Unlike many other people. Very grateful for that! In March, at the beginning of the shutdown, I was taking my barre code classes at home and was enjoying it. However, I quickly realized that my love for the Barre Code started in the studio and really didn't have any motivation at home. My class count went down a lot from June – August.
I knew working from home was going to be a long time thing and I needed to make a change to get back on my fitness grind. On Instagram, I have followed many people who loved their Peloton! Therefore, after doing some more research on my own, I finally purchased one of my own!
Right at the beginning of everyone's stay at home order, the time to get a Peloton was INSANE. I purchased mine at the end of August, and it arrived the second week of October only! I felt so lucky because I know the wait time now is around 8-10 weeks. But I promise, it is worth it.
My bike was delayed a week, which to be honest, was frustrating. I was never told it was delayed until I called, annoying for sure. If they don't have a Peloton distributer in your town, then a third party delivers (I am pretty sure that is how it works!). And if they don't have a bike available, it gets delayed. The first person I talked too definitely just gave me the common phrases they are supposed to give customers.
However, I knew they had a lot of customer service reps, so I called back. And got a good one! The rep refunded me for shipping (ps.. shipping a bike isn't cheap), scheduled a future date, and told me to call back if I didn't hear back. They told me that if I had to reschedule again, I would receive another refund. Thankfully, my bike arrived, but don't get me wrong, I was hoping for another delay to get another refund. Ha!
Anyways, when purchasing the bike, I didn't have a ton of spin bike experience. I have taken classes before so I knew I enjoyed the workout. I would suggest to try out a class before making the investment. BUT with that, the big thing that sold me to switch over to Peloton is the app. Holy smokes, the app is amazing. The app has cycling classes, tread, outdoor running, strength, stretching, yoga, meditation, core, walking, bootcamps (bike and tread), barre, cardio, AND pilates and more within all of those! You do have the option to take classes live, which I don't do a ton of, but you can always take a class at anytime. That was a big selling point for me.
So let's recap, the Peloton app gives you unlimited options for workouts AND you can do them in your home. Or literally anywhere you want. If you do not want to purchase the Peloton bike, you can still buy the app! You would just need to get your own bike or use one at a gym. Personally, I don't know a lot about spin bikes, so I stuck with the Peloton bike. I knew the quality was going to be there with Peloton so I am happy with my choice.
Right, like days, after I purchased my bike, the Bike+ was released and the regular bike was dropped in price (which I also got a refund on). I did research on what the Bike+ offered vs. the regular bike and I stayed with the regular bike. I think the Bike+'s biggest change is how the screen can move, which would be nice during bootcamp rides. A bootcamp is half on the bike, few minutes on the floor, and then finish on the bike. But I would rather save money, and just move my head a bit when trying to look at the screen.
I think my favorite thing about Peloton is that I can literally do it whenever I want. I don't have to worry about rushing to class, or if I am busy at work, that's perfectly fine because my bike will be ready for me.
The workouts are hard, like really hard, especially when you first start. But give yourself grace and make the ride fit YOU. The instructors are amazing, and will always tell you to do what is available to you and your body.
Each ride has a different theme (music, shows, musicals, motivation, etc) so there are rides for everyone. You will learn which instructors you love as you go, Sundays with Love and XOXO Cody are my favorites! You can even take a ride with a little arm workout thrown in! Also, rides can last from 5 to 90 minutes! Oh, and I almost forgot to not forget your warm-up, cool down, and stretch rides! Like you guys.. they have so much content! You will always be able to find a workout option, no matter your mode.
Long story short, would I purchase the Peloton bike again? Yes, absolutely. I love it so much and so grateful that I am apart of the Peloton community and can't wait to see where I am a year from now! I have already noticed a huge improvement in my cardio. See you on the leaderboard soon!
What to receive $100 off your accessories when purchasing a Peloton? Use this referral code : AQ7FC5
xoxo,
nikki
Find my last blog post, here!